We can activate the power view option in excel to work on PowerPoint directly on our excel sheet. We do this by clicking on File and follow other simple steps. This tutorial will teach us how to add Microsoft Power View Add-In to excel.
Figure 1: Power view Add in
Power view Add-In 2016
We will open our Microsoft excel program from our windows applications
Figure 2: Microsoft Excel page
We will select

File

in the menu, then we will select

options
Figure 3: Options menu
We will click on options to open the

Excel options dialog box
Figure 4: Excel Options dialog box
We will now select

Add-ins

, go down to the section where we have the

manage

options and change it from

Excel Add-ins

to

COM Add-ins.

Then we will click on

Go…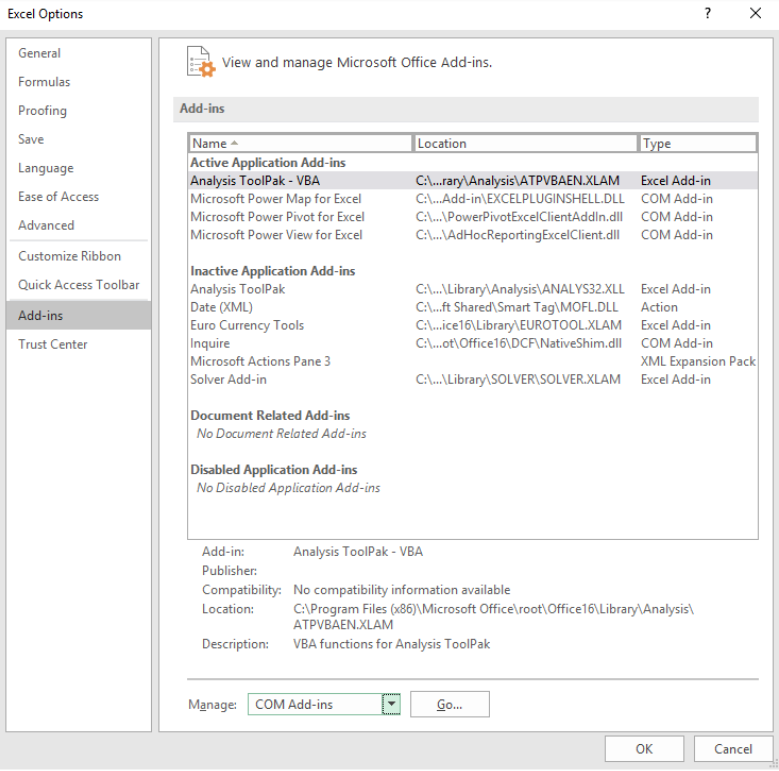 Figure 5: COM Add-ins
When we click on go, the COM Add-ins dialog box would be displayed. We will now select the

Microsoft power view for Excel

option and then click

OK
Figure 6: Microsoft Power View 
We will enable Power View by going back to click on

file

in the menu, then we will select

options,

then we will select

customize ribbons.

 
Figure 7: Enabling Power view
We will now click on

insert

in the

right column menu,

and then we will go down and click on

new group.

This will display the name

New Group

on the list. We will now select

new group

and click on

rename

to change the name to

reports.
Figure 8: Creating a new group on the insert menu
Figure 9: New group created as Reports (Custom)
We will select the

Reports (customs)

that has been named and proceed to the drop-down button of

Choose commands from

on the left column and we will change it to

Commands Not in the Ribbon

.
Figure 10: Command Not in the Ribbon
We will scroll down on the choices in the left column and click on

Insert a Power View Report,

then we will click the

Add>>

button and click

OK
Figure 11: Insert a Power View Report
The

Power View icon

would be displayed in the

Menu bar

 
Figure 12: Power View Add-in
We will now open the power view add-in
Figure 13: Power view Add-in opened
Instant Connection to an Expert through our Excelchat Service
Most of the time, the problem you will need to solve will be more complex than a simple application of a formula or function. If you want to save hours of research and frustration, try our live Excelchat service! Our Excel Experts are available 24/7 to answer any Excel question you may have. We guarantee a connection within 30 seconds and a customized solution within 20 minutes.