When we open the Excel workbook, it contains several worksheet tabs like Sheet1, Sheet2, Sheet3 or the named worksheet tab like January, February, etc. Sometimes, we can't see tabs, some or all of them, at the bottom of the workbook. We need to learn methods of how to make these sheet tabs visible when not showing tabs.
Figure 1. How to Show Tabs
Turn On Show Sheet Tabs Settings
If none of the worksheet tabs is visible at the bottom of the workbook, then it means Show Sheet Tabs settings is turned off. Therefore, we must check the settings and ensure to make it turned on to show tabs by following the below steps;
Go to

File

and select Excel

Options

.
Figure 2. Excel Options
On the left side of the

Options

window, select

Advanced

settings and scroll it down. Under the

Display options for this workbook

, make sure that there is

check

(⇃) on

Show Sheet Tabs

checkbox. Turn it on if it is not selected.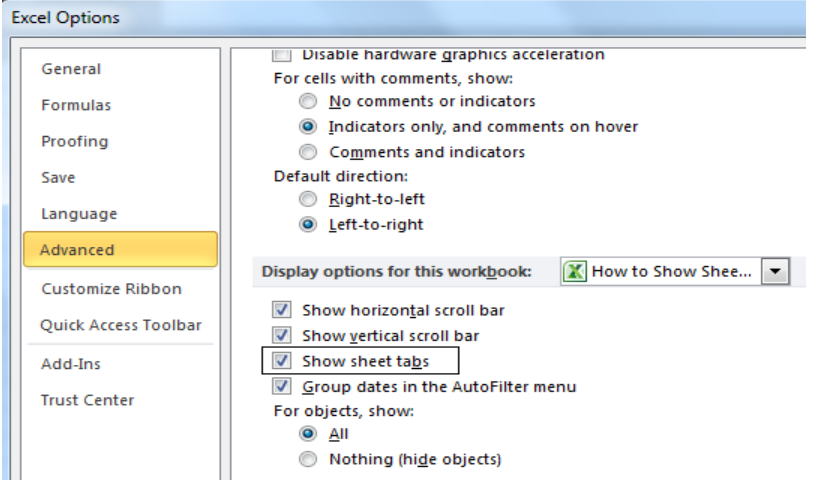 Figure 3. Show Sheet Tabs Settings
Unhide the Worksheet(s)
If some of the worksheets are not displaying then it means that they are either hidden or there is an issue with Excel not showing tabs.
Figure 4. Can't See Tabs
We need to make hidden worksheet(s) unhidden by following these steps;
Right-click

on any of the visible sheet tabs and select

Unhide
Figure 5. Unhide Sheet tabs
From the

Unhide

dialog box, select the hidden sheet tab(s) and press the

OK

button.
Figure 6. Hidden Sheet Tabs
After unhiding all the

tabs not showing

, we can

view tabs

now.
Figure 7. Unhiding Worksheets
Instant Connection to an Expert through our Excelchat Service
Most of the time, the problem you will need to solve will be more complex than a simple application of a formula or function. If you want to save hours of research and frustration, try our live Excelchat service! Our Excel Experts are available 24/7 to answer any Excel question you may have. We guarantee a connection within 30 seconds and a customized solution within 20 minutes.