We can use queries to extract data from all kinds of data sources. In many cases, it is a more efficient tool than using VBA Macro or formulas. In this tutorial, we will learn how to retrieve data using query from a workbook, Microsoft Access, and many other Microsoft SQL Server tables.
Figure 1 – Writing query
Using the Microsoft query tool
In our open Excel document, we will click on

Data

in the ribbon tab and select

From Other sources

. If we are using Excel 2016, we will click on

Get External Data

directly from the Data tab
Figure 2 – Microsoft query wizard
In the drop-down list, we will select

From Microsoft Query
Figure 3 – Microsoft query tool
In

the Choose Data Source

dialog box, we will specify the location of our file. In our example, we want to locate a file, so we will click on files.  
Figure 4 – Query access
Next, we will select the file that will be our source for the Microsoft Query.
Figure 5 – Ms query download
We will be asked to pick the columns we want to include in our

MS query
Figure 6 – Querying spreadsheet
We will click on the columns we want to include and select

Next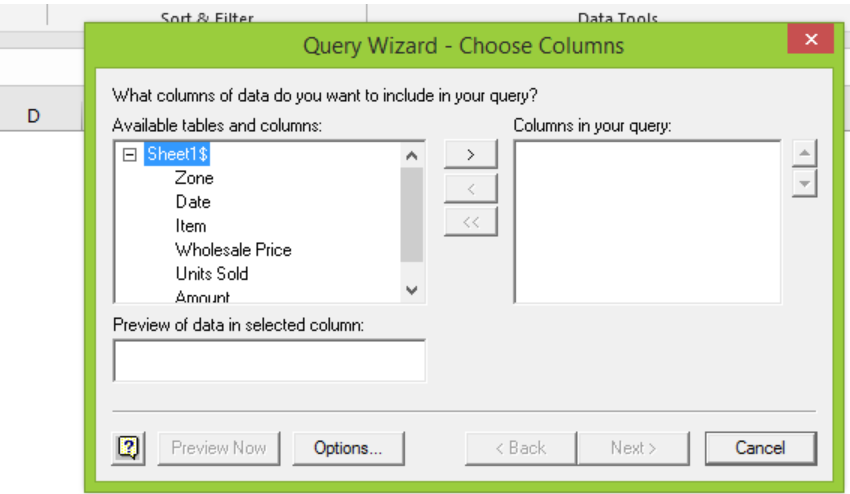 Figure 7 – Microsoft query tool
We can filter how we want our data to appear in the next dialog box.
Figure 8 – Querying spreadsheet
Next, we will be asked to sort our data. If we don't want to edit yet, we can click

Next
Figure 9 – How to use query wizard
The Query Wizard will return with two options. We can either return data to Microsoft Excel or view data or edit query in Microsoft Query
Figure 10 – Excel query
If we selected the

View data

or

edit query in Microsoft Query option

, we can open the

SQL Edit Query window

by clicking on the

SQL button
Figure 11 – Using the Microsoft Excel Query
When we are done with the edit, we will click on the

return button

(the open door button as shown below)
Figure 12 – Use the return button to exit the Microsoft Query
After

modifying our SQL statement,

we will

click on return data button

in the Microsoft Query window.

Then, in the

Import Data dialog box,

we can select how we want to view the data and where we want to put the data.
Figure 13 – Select how you wish to view your data
Lastly, we will click

OK

The result of our query will appear in the new Excel table. Now, we can edit and modify our new table
Figure 14 – Result from using the MS query
Instant Connection to an Excel Expert
Most of the time, the problem you will need to solve will be more complex than a simple application of a formula or function. If you want to save hours of research and frustration, try our live Excelchat service! Our Excel Experts are available 24/7 to answer any Excel question you may have. We guarantee a connection within 30 seconds and a customized solution within 20 minutes.